Subaru Forester vs. Subaru Outback
If you are looking for a new vehicle, consider Carson Exports, the preferred dealership in Dartmouth, Nova Scotia. If you live in or near Halifax, Moncton, Charlottetown or Sydney, we can help you as well. For many drivers, the Subaru Forester vs Subaru Outback debate is an important one to consider. We would love to help you choose the Subaru that is best for your needs.
Subaru Forester vs. Subaru Outback Overview
Two of the Subaru line flagship models, the Subaru Forester and Subaru Outback, have long histories as excellent vehicles. The Forester is a compact crossover SUV, while the Outback is a mid-size crossover that is closer in size to a wagon. These similarities lead the two vehicles to be fairly comparable in size, cargo and passenger seating room. Read on to consider other vital elements of these incredible vehicles.
Exterior Styling
Overall, both vehicles have classic Subaru designs that emphasize their off-road capabilities without sacrificing bold style. The Outback has a leaner look as it is a bit more streamlined than the Forester. The Forester's stance is slightly higher than the Outback since it's an SUV.
Engine Specifications
The Forester and Outback have the same engine, a 2.5-litre four-cylinder engine that produces 182 horsepower and 174 lb-ft of torque. This engine is plenty of power for a vehicle in either the SUV or wagon class. It is important to note that the Outback can be optioned with a turbocharged, 2.4-litre engine on higher-level trims. This engine produces up to 260 horsepower and 275 lb-ft of torque. The Continuously Variable Transmission allows for smooth acceleration and efficient use of the engine's power.
Fuel Efficiency
Because they have the same base engine, both the Forester and Outback have the same fuel efficiency. They get 9.0 L/100km in the city and 7.1 L/100km on the highway. If you choose the Outback with the turbocharged engine, you can expect fuel efficiency that is a little lower, more in the range of 10.2 L/100km in the city and 7.8 L/100km on the highway.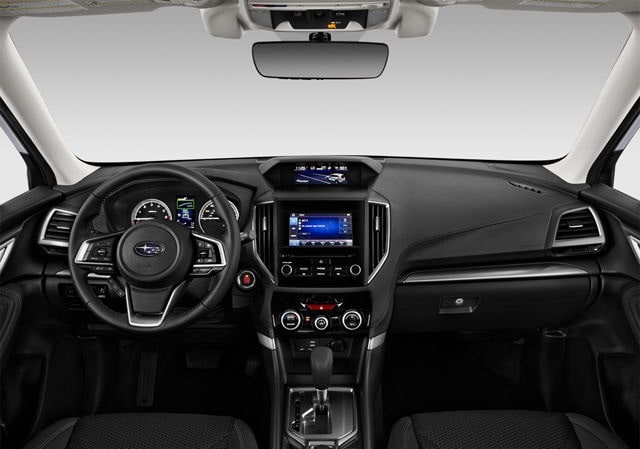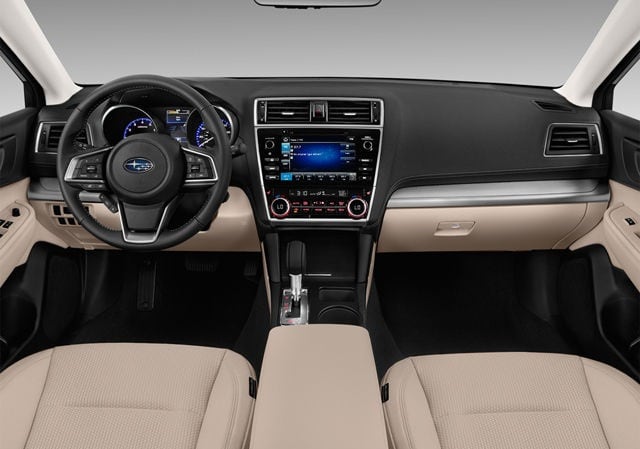 Luxury Features
Both vehicles have luxury features like leather-trimmed upholstery and well-designed interiors that provide a comfortable, intuitive driving experience. The Outback has been redesigned more recently than the Forester, so it has a few improved features, such as a larger optional touchscreen. It also has Nappa leather seats and ventilated seats, which is not a feature on the Forester. Both include standard interior features like Bluetooth connectivity and Subaru Starlink services. Android Auto and Apple CarPlay connectivity make it easy to integrate your phone or tablet with the vehicle's computer. Additionally, steering-wheel-mounted buttons allow you to adjust audio, media or cruise controls without taking your eyes off the road.
Safety Features
Given Subaru's consistent legacy of safety, it comes as no surprise that the Forester and Outback have received excellent ratings from the National Highway Traffic Safety Administration (NHTSA) and Insurance Institute for Highway Safety (IIHS). In addition to performing well in all types of crash tests, these Subarus both have excellent additional features, such as Subaru's EyeSight package, that come standard. The EyeSight package includes Pre-collision Braking, Adaptive Cruise Control, Lane-departure, Sway Warning, and Lane-keep Assist technologies. They can keep accidents from ever happening, which offers you peace of mind as you travel on or off the road. High beam assist technology is standard, further adding safety when travelling at night. Anti-Lock Brakes and Brake Assist technology work together to give you plenty of room to stop no matter what the conditions are.
Price Point Comprasion
Of the two, the Outback is the more expensive vehicle. While the base Forester and base Outback are relatively similar in price, the Outback widens that gap as you move up through the trim levels.
Financing Options
Contact Us today to learn more about our new inventory of Subaru vehicles. We also have a great range of used inventory for you to browse. We have a variety of financing options, and it is easy to schedule a test drive when you speak with one of our expert associates.
Subaru Forester & Outback Inventory in Dartmouth, Nova Scotia